Another of our veterans on the Niseko Academy team…
Academy PROfiles blog series number 3… Introducing Simon Grove!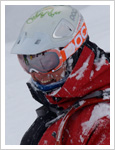 Simon hails from New Zealand and has been teaching skiing around the world since the late 90s. He's an Examiner with the NZSIA and is based at Cardrona Alpine Resort when back home.
Simon, so how many seasons have you been teaching for now?
"28 seasons now."
And how many seasons in Niseko now?
"2 so far, this will be number 3." (as of 2014)

What do you like to do when you're not skiing?
"What else to do apart from ski? I get out on a mountain bike and go for a surf when I can, and stay as fit and healthy as possible."
What's your best tip for a first time visitor to Niseko?
"Beware of friends ordering your appetisers on your first night eating out."
What's your favourite "niche" to teach?
"First time pow shredders – any age of course but kids are the best!"
After Niseko, where's your next favourite place to ski/ride?
"Anywhere with fun terrain… Treble Cone and Ohau in NZ, Mammoth in Califronia."
Simon in Action
About the Academy PROfiles
We've got a rather interesting group of coaches here at Niseko Academy (artists, musicians, sound engineers, photographers, the list keeps going), and we'd really like to tell a bit about who they are. Most ski and snowboard coaches out there have multiple strings to their bow after all – but our team have some pretty multi-coloured strings!
This mini-blog series will give you a little background on our coaches; what they love, their experience on the snow and some tips on visiting Niseko.
Tags:
simon grove