This season we'll be running a blog mini-series about our staff call the Academy PROfiles.
We've got a rather interesting group of coaches here at Niseko Academy (artists, musicians, sound engineers, photographers, the list keeps going), and we'd really like to tell a bit about who they are. Most ski and snowboard coaches out there have multiple strings to their bow after all – but our team have some pretty multi-coloured strings!
So here's the first in the Academy PROfiles series… Introducing Rob Forbes!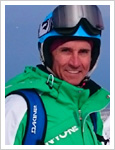 Rob hails from Aussie, is an avid surfer and a rather talented artist.
Rob, how many seasons have you been teaching for in your long and lustrous career?
"20 seasons teaching now, 25 skiing in total."
And how many seasons in Niseko now?
"This season (2014-2015) will be my third. I took a break from the industry for a little while, but just couldn't stay away."
What do you like to do when you're not skiing?
"Surf and paint! That's pretty much it."
What's your best tip for a first time visitor to Niseko?
"Get out the gates (if you're at the right level)! And if the gates are closed, then get amongst the trees!"

What's your favourite "niche" to teach?
"Helping people to learn to 'let go' and enjoy the exhilaration of riding – whether it be steeper, deeper or faster than they have dared to go before – by giving them the skills to do it."
After Niseko, where's your next favourite place to ski/ride?
"Oh… Niseko! Nowhere else."
Rob in Action
Tags:
rob forbes